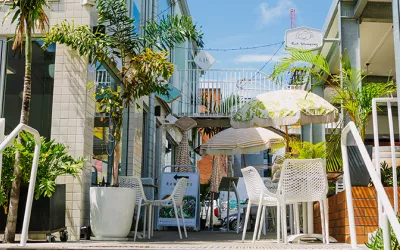 The Valley's historic buildings you've never known about (until now)
Did you know Fortitude Valley was once home to five department stores? Or that the Southern Hemisphere's largest Catholic Cathedral was supposed to be built on Ann Street? 
Here's just some of the Valley's heritage sites and the intriguing history behind them. For the full list of 20 historic locations, check out the Vibrant Valley Heritage Trail.
An ornate wall is all that's left of what was supposed to be the largest Catholic cathedral in the Southern Hemisphere – pretty impressive when you consider most of South America falls within this vast geographic area! It was meant to cover an entire city block with a height of 80m (for reference, City Hall's Clock Tower is 92m high) and had marble from the Roman catacombs and soil from Ireland under the foundation stone. Construction started on the Holy Name Cathedral site at 586 Ann Street in 1928 but halted due to the Great Depression.
McWhirter's Department Store
The Valley has been home to many department stores over the years, including Myer and David Jones, but the OG was McWhirter's Department Store. The striking Art Deco building was established in 1898 and now houses both McWhirters Retail and heritage apartments. Other historic department stores include Overell's, which had two stores – one at 250 Wickham Street that sold menswear and the Brunswick Street store that was devoted to womenswear and accessories – and TC Beirne Department Store, built in 1902. Fun fact: Irishman TC Beirne was also Australia's first self-made millionaire.
The Empire Hotel was twice the size it is today with equal frontage on Ann and Brunswick streets. It was originally built in 1888 by renowned colonial architect Richard Gailey, who also designed the Valley Presbyterian Church and School on Warner Street, which was constructed in 1885. The prolific Irish-born architect also designed many other well-known Brisbane buildings including The Regatta Hotel and Brisbane Grammar School. 
This heritage-listed laneway was named for Bragg's Bakery, which opened in 1865 and traded for more than 40 years at 694 Ann Street. When Joseph Bragg (son of the original owner, Charles Bragg) died in 1883, his widow, Kate took over and became a master baker – a rare achievement for women at that time. By 1888, Kate and her employees were baking up to 700 loaves a day!
Also on Bakery Lane, the Apothecaries Hall building at 690 Ann Street looks much the same as it did when constructed in 1882. This is where you could obtain imported drugs, surgical instruments and dental operations performed with instruments of the "most modern invention". 
– September 2020