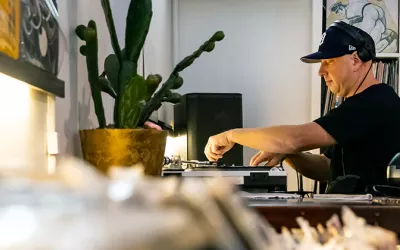 Press play at the Valley's record stores & recording studios
You already know the Valley as your go-to for live gigs and music festivals, hosting local legends, interstate talent and international acts at renowned venues, bars and clubs. Fortitude Valley is not only the spiritual home of Brisbane's live music and DJ scene, it's also where you can find independent record stores and recording studios where you can source both new music and rare vinyl alike and check out in-store sets or live-stream performances.
 
Here's where to shop the music and learn how to DJ or produce in the Valley.
Established in 2020, Catalog Music also has a bricks-and-mortar store and an online shop for all your new and pre-loved vinyl and cassette needs. Pop into the Wickham Street store to riffle through a huge range of genres from dancefloor 12" records to reggae, funk, soul, rare groove and indie label LPs. You'll also find retro Australian and international reissues and compilations. Like its namesake, Catalog is a curated space – no chaotic collections here! – with listening stations and local DJs on the turntables on weekends. Open Wednesday to Sunday from 12–6pm.
 
Get your record out with Gyrostream. The Valley music publisher can facilitate vinyl pressing and manufacturing as well as digital distribution for self-publishing musos and DJs. With a head office in Brisbane's music hub, Gyrostream is all about helping independent local musicians reach a global audience online.
Got two turntables and a microphone? Learn what to do with your mixing gear at Little Street Studio, a custom-built recording facility and creative space. Aimed primarily at electronic music producers, the state-of-the-art studio will offer DJ and production lessons for bedroom DJs to learn techniques and topics from the mixmasters. Artists, producers and bands can also apply for the Artist Residency Program for weekly subsidised studio time.

 
From a tiny platform at the end of Winn Lane, QUIVR is a 24/7 live-streaming community space for DJs, artists and producers. Watch live via the QUIVR website, Twitch and Twitter, or listen in on Mixcloud. Funded by artists and donations, QUIVR also runs beginner group workshops and private lessons for aspiring DJs or those who want to level up their skills.
Head to the Brunswick Street showroom for everything you need to kit out your home or band with the latest and greatest audio-visual innovations. With leading hi-fi brands and a huge range of amps, speakers, turntables, mixers, DACs and tuners, there is something for every kind of muso and DJ. Music lovers can also source music players and an array of vinyl.
Open Monday to Friday from 9am–5pm, Saturday 9am–3pm and Sunday 10am–3pm.
Source all the audio, lighting and technology gear you need for DJing and music production at Store DJ on Brunswick Street. With everything from digital DJ equipment and software to turntables and mixers, it's a one-stop-shop for aspiring DJs and pros alike. Set up your home production studio with premium gear from the likes of Yamaha, Pioneer DJ, Rode, Roland and Shure. Open Monday to Wednesday from 10am–6pm, Thursday 10am-7pm, Friday 10am–6pm and Saturday 10am–5pm.
- April 2022