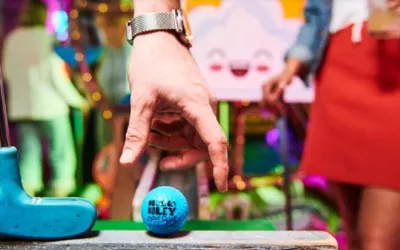 We're a mini golf course and bar that turns traditional putt putt into a multi-sensory labyrinth of unique holes inspired by everything from your everyday to the fun of your childhood faves.
It's nice, it's nostalgic, it's '80s, it's '90s. It's the craziest round of mini golf you've ever played. We are not in even a tiny way affiliated with any of the creators of popular culture that some of our holes may, or may not remind you of.
And with drinks, cocktails and tunes on offer at our full service bar, The Caddyshack will take care of all your off-the-green needs.
Website holeymoley.com.au
Facebook: holeymoleygolf
Instagram @Holeymoleygolf
Contact  1300 727 833
Address  325 Warner St, Fortitude Valley, Queensland, 4006, Australia