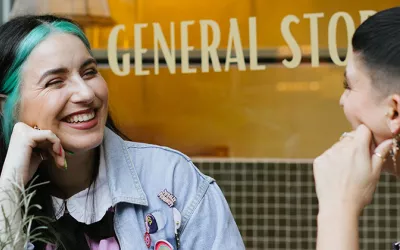 From cafes to homewares, bridal rentals to cakes, Bakery Lane is full of independent and interesting businesses to explore. Wander down this heritage-listed laneway off Ann Street and discover your new fave Valley hangout.
Food and drink
Gung Ho! Dumpling is a dumpling den with a delish array of handmade morsels on offer. From pan-fried gyozas to dumplings in soup, it's a bite-size bonanza! Try the lamb coriander dumplings for a fresh take on dim sum, or chow down on plump vegan versions. Yum!
Formerly Nom Nom Korean, Jeon's Kitchen is your new hotspot for Korean faves, including Korean fried chicken and chips, seafood ramen, soba noodle salad and bibimbap bowls. Add live entertainment, beer and soju and you have all the makings of a great meal out.
Tiny fine diner Joy accommodates just 10 people per sitting with reservations booked six months in advance. Book now or keep an eye on Instagram to snag a seat at chef Sarah Scott's kitchen counter to sample the acclaimed multi-course menu and wine experience.
Pretty in pink, this cake shop is scoopfuls of fun with gelato, cookies, brownies, stacked waffles and delish dessert jars on the menu. Be tempted by the huge array of sweet treats in the glass display to indulge yourself or spoil a special someone.
A Valley staple for breakfast, brunch and lunch, the streetside cafe flows into an outdoors area for diners. Check out the sweet and savoury menu that includes fried chicken benny and the option to BYOB (build your own breakfast), plus coffee, house wine and beer.
Carb lovers will want to get among Uh-Oh Spaghetti-o's generous servings of Italian pasta and antipasti, dishing up saucy meals until late with a fun cocktail and drinks list. They can cater for a couple up to a crowd, so bring the people and they'll bring the party.
Located across from Uh-Oh Spaghetti-o is this convivial boutique space that offers indoor and laneway seating to try Italian wines by the bottle or glass with Italian morsels, or take away a selection of Italian wines and craft beers plus pantry provisions for hampers.
Shopping and retail
Say "I do" to exclusive bridal attire, available to rent or purchase for the wedding of your dreams. The Bessette Bridal showroom has a stunning selection of designer bridal dresses, providing accessible and sustainable luxury for the modern bride.
A cafe-deli-grocer-homewares boutique in one, newly opened NUG. General Store offers a hybrid shopping and dining experience centred around food. Stop by for bespoke ceramics, grab-and-go gourmet eats, pantry provisions and styling masterclasses in the workshop.
- June 2022