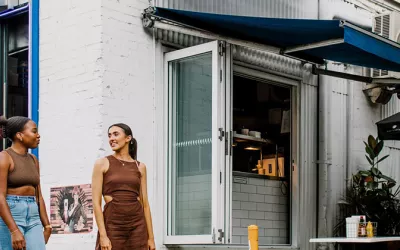 All you need to know about art and dance in the Valley
The Valley is painting the precinct on Sunday 8 May when local street artists flex their visual art skills in Brunswick Street Mall, as part of the annual Brisbane Street Art Festival 2022 (BSAF), being held from 7–22 May.
Bringing vibrancy to the Valley, talented local artists Chloe Joy, Artdosis and Gourami will take over Brunswick Street Mall on 8 May from 10am-2pm with a live exhibition of visual art curated by BSAF.
Watch as blank canvases transform into finished large-scale murals in a unique public display across the day.
BSAF culminates in the Valley with the Brunswick Street Breaking Battles, featuring local performers from the multi-award-winning Elements Collective dance company on 14 and 15 May from 1–4pm.
Get pumped for the hip-hop moves and street culture when Valley b-boys and b-girls show-off their skills on the mall d-floor.
The showcase will be registered with the Australian Breaking Association with points awarded going towards qualifying for the Paris Olympics in 2024 ahead of Brisbane hosting the 2032 Summer Olympics.
Elements Collective will also host a Scribble Slam on Saturday 14 May where street artists, Fivust and Mauy, will go head-to-head with a live battle to create a themed design in just 90 minutes.
Keen to get among more art in the area? Check out where to do a gallery trail in the Valley.